Hollow fibre membranes are tubular devices used as filters to purify water and wastewater. A variety of other water and water treatment technologies are currently used by water treatment companies, but few offer the advantages of hollow fibre membranes. This is because inside a hollow fibre membrane water filter, hundreds or even thousands of tubes, which look like minute straws, are bundled together in a matrix fashion. The walls of these hollow fibres contain numerous tiny micropores. When water or wastewater passes through these tiny micropores, any pollutant, whether chemical or microbiological, is trapped inside the tubes because it is too big to pass through the pores (size exclusion principle). The water on the other side is clean.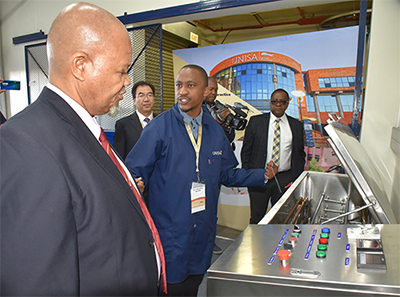 Kagiso Molokane, a lab technician from NanoWS, doing a demonstration for Prof Makhanya and delegates.
These devices are attractive for use in water and wastewater purification and treatment, because they sieve out contaminants efficiently and more effectively using physical rather than chemical means. They are capable of purifying water at all pH, salinity, turbidity and temperature levels. Other technologies, such as those that use ultraviolet light and chemical treatments, are highly dependent on physical properties and water chemistry, adsorption or chemical degradative principles. These tamper to a certain degree with water quality or their performance is affected by the state of water chemistry.
"Obtaining these machines to make hollow fibre membranes will enable Unisa to offer advanced training on membrane technology relevant to water and wastewater treatment and thus generate highly skilled graduates who will serve the communities better. Moreover, it will enable Unisa to embark on offering solutions to water quality challenges. This is because Unisa will be able to produce these devices locally on a large scale and supply them to water and wastewater treatment plants," said Prof Bhekie Mamba, Executive Dean of CSET.
"Research in the development of water purification technologies has been among the areas where Unisa is investing its resources and priorities. For this reason, Unisa has been in the forefront among its peers globally in developing appropriate and relevant technologies that are affordable and relevant to our communities in our country and in the region. As we speak, laboratories at Unisa's Science Campus are well equipped with state-of-the-art, top of the range research facilities that enable researchers to engage in high quality research in almost all fields including the area of water quality," said Prof Mandla Makhanya, Unisa Principal and Vice-Chancellor (VC). Read more at Unisa
Source: Unisa

NB: Do not pay for any job placement, a job cannot be sold. The job has to pay you not the other way round.
(Visited 344 times, 1 visits today)